"In the minds of every person along the Alice River is the need for road accessibility": Delivering Development in Western Province
Philip Nere from the International Organisation for Migration shares how IOM is working with communities for better services in Western Province.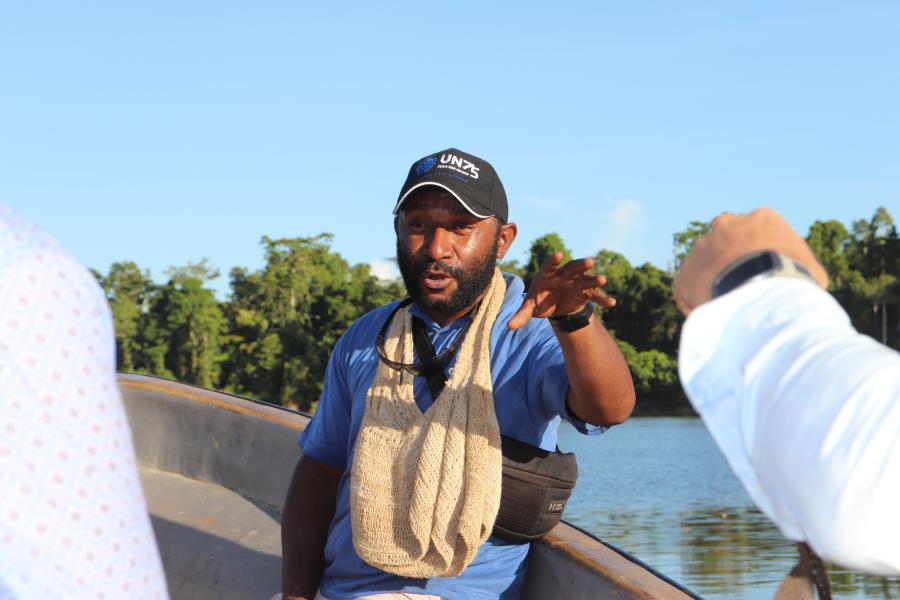 Photo | RCO
Every year, communities living along Western Province's Alice River face a lack of basic needs and services as seasonal changes leave them isolated from town centres.
"Most rely on small ponds and creeks for water," says Philip Nere, a project officer with the International Organisation for Migration (IOM) in Kiunga. "Most of these creeks and ponds are unsafe since they are in open, unsecured areas."
These water sources are acutely vulnerable to seasonal changes. "The Alice River has been labelled contaminated and, during rainy seasons, the river easily floods its banks and covers these creeks and ponds," says Philip. "During the prolonged dry seasons, the rain catchment water depletes and most of the creeks and ponds dry up as well."
When these regular water sources become contaminated or dry out, communities must look for water further into the bush. This search for clean water sources typically falls on women and children. Philip shares that "this increases their vulnerability to sexual harassment and abuse."
These communities rely on the river for transport, leaving them virtually inaccessible during the dry season. "It's quite difficult to access these communities during the dry season as the water level drops," says Philip. "For how long depends on the duration of the dry season."
"Generally, there are number of health facilities and education institutions established in each of the communities or ideally both services in each electoral/census ward." These community health services are operated by Church Health Services and can refer patients to hospitals for advanced care. "To access health services, they have to walk or alternatively use a dingy or vehicle if they have road access."
Not only do residents struggle to access community health services, the care available can be variable as services face medicine shortages and transport to advanced care facilities becomes challenging. "During the dry season, people are more prone to dying from treatable, curable diseases and illnesses," says Philip. "Health centre staff also experience food shortages since they rely on the stores for their daily sustenance."
Education is similarly affected. "Children mainly walk to school to attend classes," says Philip. However, this can take over an hour or two and some children attending primary school opt to leave their family and stay with their relative or family friends close to the school to ease the long daily walks."
"School supplies are difficult to transport into schools, teachers will have no food since their food supplies are obtained from the stores in the main centers and classes are more likely to be suspended or even closed."
In 2020, IOM had planned to provide improved water and sanitation facilities in two communities along the Alice River but a lack of rainfall had left these villages inaccessible. Funding for this was provided by the UN Secretary General's Multi-Partner Trust Fund for COVID-19 (MPTF). The team identified two other communities with whom they could work to implement the project.
To address these challenges and build sustainable solutions, IOM has been working closely with affected communities.
"We engage and work directly with the communities by being physically present on the ground and also having working committee in place in each community as focal point for the delivery of our interventions and information sharing," he says. "We also work with relevant partners including government, churches, and other NGOs. Thus, our assessment information on development needs is more firsthand and from collective opinions within the community itself."
From his firsthand engagement with these riverside communities Philip shares that residents want access to clean, safe drinking water, improved food security, and improved civil services. "However, at the very top of the list and in the minds of every person along the Alice River is the need for road accessibility," he says. "This may seem farfetched but it's the crucial and fundamental need."  
IOM has maintained a presence in North Fly, building relationships with these communities and looking for ways to support the communities' development goals given the seasonal challenges. "A more proactive approach is suitable given the unpredictable seasonal changes," says Philip. "I would suggest, in order to meet the development needs, the employment and implementation of a community-based Disaster Risk Reduction (DRR) concept."
"This would allow them to be less susceptible to the seasonal changes, at the same time addressing their essential developmental needs and eventually they become more resilient."
Together with UNFPA and UNICEF, IOM is working in North Fly to support communities at risk from COVID-19 and its secondary impacts. Western Province has experienced some of the highest number of cases of COVID-19 in PNG.
UN entities involved in this initiative
IOM
International Organization for Migration
UNFPA
United Nations Population Fund
UNICEF
United Nations Children's Fund