"We are just sweating": UNFPA Funds Renovation of Maternity Ward in Matkomnai, Western Province.
UNFPA gives dedicated health workers serving remote communities some much needed renovations to their aging facilities.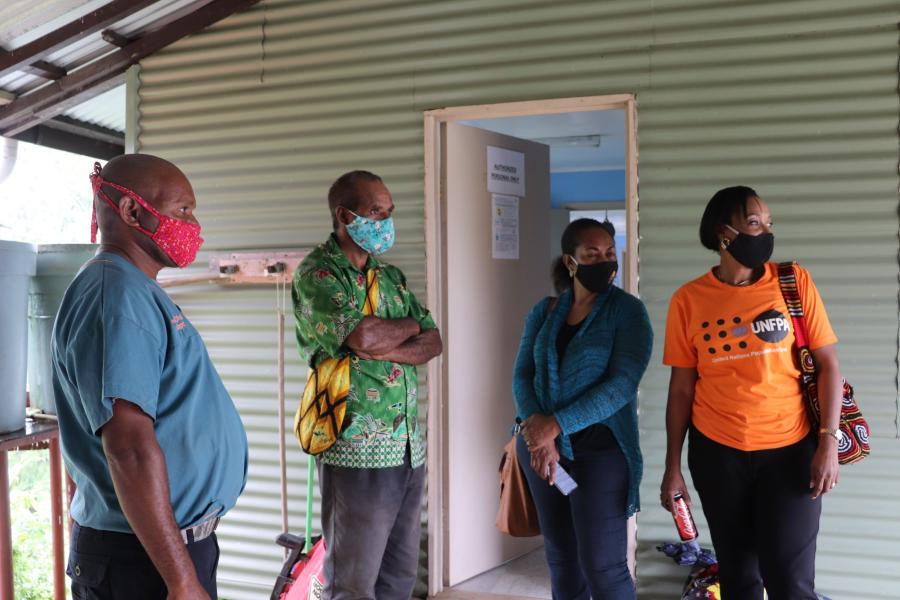 Photo | UNFPA/ Rachel Donovan
"It's very hot," says Sr Philomena, manager of Matkomnai Sub-Health Centre. "It's not comfortable for the mothers and the workers."
UNFPA's Dr Titilola Duro-Aina and Debbie Kupesan have just visited some of Sr Philomena's team at Matkomnai. Indeed, even a short person can easily touch the ceiling of the remote health care facility's delivery room. The team shared that the cramped, dim room with only one window makes it difficult to provide good quality care to the women who come from the 11 villages served by Matkomnai.
"Many times we are working there, we are just sweating," Sr Philomena tells us. "That's why we want to make a change. To make a comfortable area, clean and welcoming for the mothers and the babies."
UNFPA is funding renovations so that Sr Philomena and her team can make this welcoming space a reality.
"Next week," says Sr Philomena excitedly, when asked when the work will begin. The renovations will see the roof raised and window expanded. The brighter, cooler maternity ward will make a real difference for staff and for mothers who will visit the health centre.
It is expected to be completed in six weeks.
The Matkomnai renovation is one of several healthcare infrastructure developments funded through the Secretary General's Multi-Partner Trust Fund for COVID-19. At Rumginae Hospital, UNFPA will also be supporting the makeover and supply of equipment to the hospital's antenatal and labor wards. The rural hospital serves over 14,000 people from 19 villages across North Fly.
However, a health facility is more than its walls and the best equipped hospital is nothing without skilled staff. Sr Philomena is one of fourteen health workers from 6 health facilities completing training on maternal care with experts from UNFPA and the National Department of Health. The training has provided community workers with essential knowledge and skills for the diagnosis and treatment of maternal health conditions.
Sr Philomena has come to this training with over 20 years of health care experience under her belt yet is open to new skills and techniques. "This training is powerful because many things have changed from the time of my initial training until now," she says. "For example, skin-to-skin contact between mother and baby. We never did that before, and now we are doing that. I see many differences."
"From Matkomnai, I came with one staff member. She and I will go back and give in-service training to others," says Sr Philomena. "Since I'm the manager there, I will encourage my team to implement what I have learnt."
Sharing these skills is essential for Sr Philomena's team who are the first point of contact for the 3,500 people served by Matkomnai Sub-Health Centre. Retaining these skills is another challenge and Sr Philomena is keen for the training team to see how her and her staff are able to implement what they have learnt in their own facility.
Returning to Matkomnai to visit the renovated maternity ward is a chance for follow up with Dr Titi and the UNFPA team. "This is an opportunity to come and see if we are implementing what we learned," says Sr Philomena. She further added, "It's not every time we have an emergency; the skill will go away if there's no follow up."
Rumginae Hospital is where the team from Matkomnai and other community health workers refer patients when a woman suffers severe complications during labour. Presenting to a community health service early is critical to getting women the help they need. Making the journey to a health centre requires expectant mothers to be aware of the risks they may face and the level of care they may need. Linking together the three levels of care – in the village, at the community health centre, at advanced care facilities – can mean life or death for these women.
"I want to encourage mothers to seek help at a facility if they are having any danger signs," says Stella O'Wene, Sr Philomena's colleague from Matkomnae. "A severe headache that doesn't respond to pain relief, blurred vision, chest pain - women experiencing these things should seek help immediately."
At the conclusion of the training, Sr Philomena will distribute PPE from UNFPA to her team at Matkomnai and to village health volunteers. These volunteers will be providing local information sessions to educate their community on the services that are available at Matkomnai Health Centre and to recognize warning signs and seek help early.
One of the next links that UNFPA will connect is transportation between community health centres, like Matkomnai Health Centre, and advanced care facilities, like Rumginae Hospital. The team is purchasing dinghies to assist health workers transport patients from communities along the Fly River. Coupled with funds already made available to Rumginae hospital by UNFPA for air transport, remote communities in North Fly District will soon have access to health services by land, air and water.
UN entities involved in this initiative
UNFPA
United Nations Population Fund