Story
New Tech Seeks to Boost Storytelling from Western Province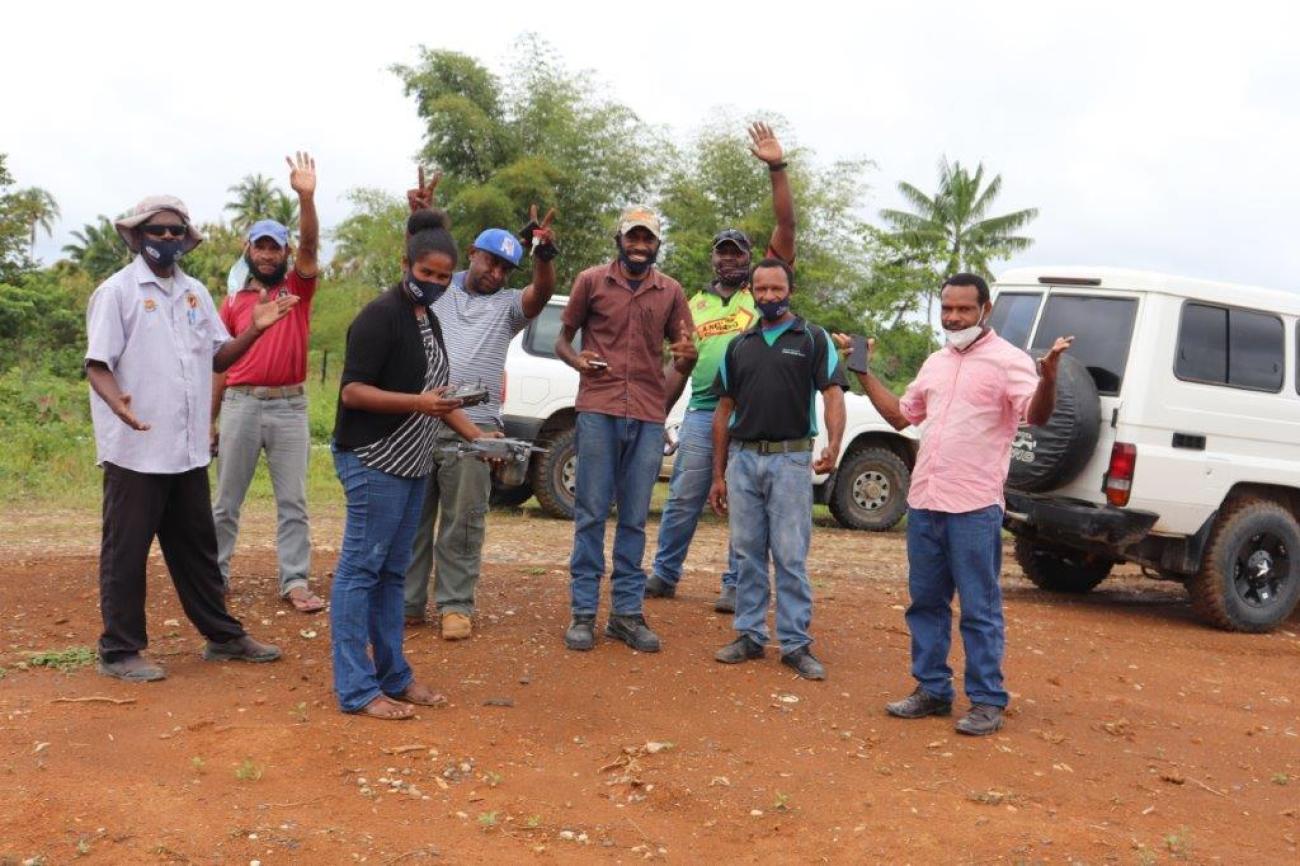 UNDP has supported a team from Western Province Administration with new equipment and training to cover humanitarian and development issues.
On an overcast Tuesday afternoon, a small team of media, ICT, and disaster response professionals from Western Provincial Administration are gathered around a drone by a roadside outside Kiunga.
After attempting to launch in two No Fly Zones, the team is now set to practice using their new device – a tool to capture the unique landscapes that underpin many of the development challenges facing North Fly.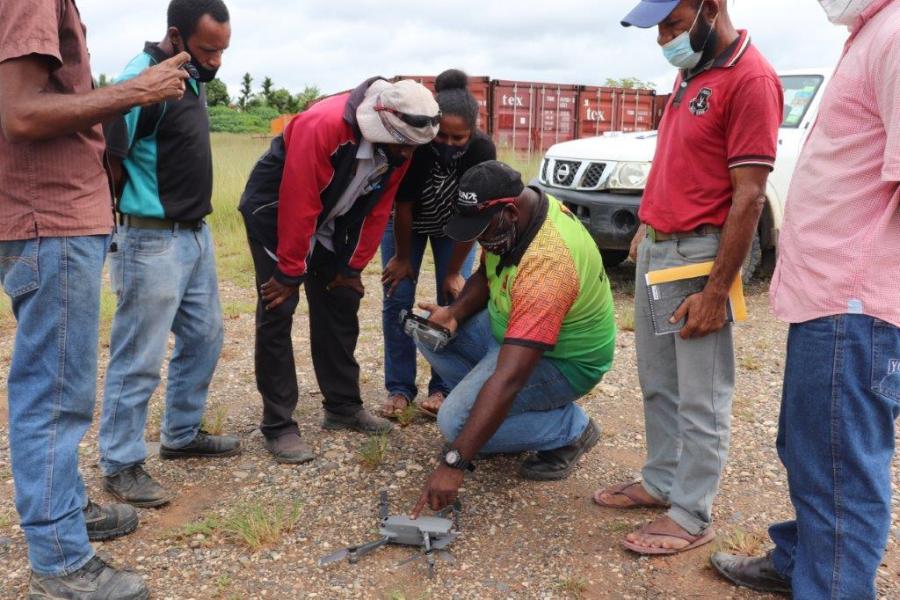 The drone takes flight with shouts of excitement.
It was handed over along with audio equipment, a new camera, and accessories as part of a two day workshop on humanitarian communications for the team in Western Province who had requested support for their communications capacity.
"We have platforms that we've been building for over two years now," says Provincial Broadcast and Media Officer Deborah Moses. "But we need equipment to be able to publish good quality content. We have so many projects we are doing but this isn't properly captured."
One of the top pieces of equipment on Deborah's list was a drone. "The reason we haven't been able to capture our work is mainly geography. We'll be visiting a village but project sites are a distance away."
"The logistics for Western Province has been one of our biggest challenges."
Large areas of wetlands, a lack of road access to remote communities, and seasonal fluctuations leaving communities inaccessible by boat for prolonged periods, are critical considerations for essentials such as healthcare, education and water. Images that concisely and effectively show the landscape and waterways provide valuable context for development partners, especially international donors.
"We felt that by having a drone we'll be able to portray the context," says Deborah.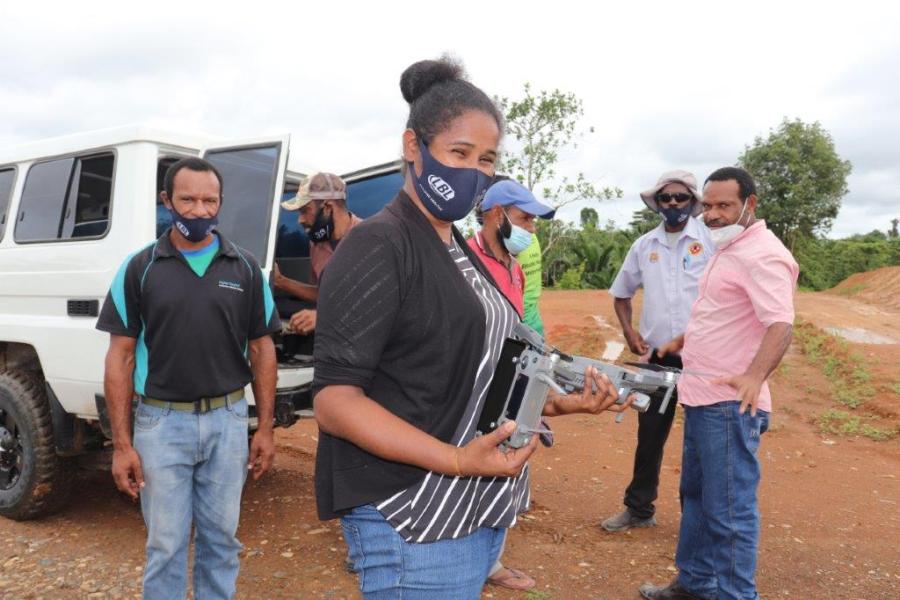 This content will complement the work of colleagues like Solomon Kunika, from the information division, who is working with the monitoring and evaluation team on building a database to record and assess projects.
"I come from an IT background," said Solomon. "Through this training, stressing collaboration, the work can have an impact within our division and for the whole province"
Solomon also noted how the new equipment will help the division to operate more economically.
"Sometimes Deborah and Michael have to jump on a chopper to get to an area," he said. "So the drone will greatly reduce the cost of accessing these areas."
Fellow ICT team member Ronnie Awagila added "I'm just getting started in this field. This training very exciting."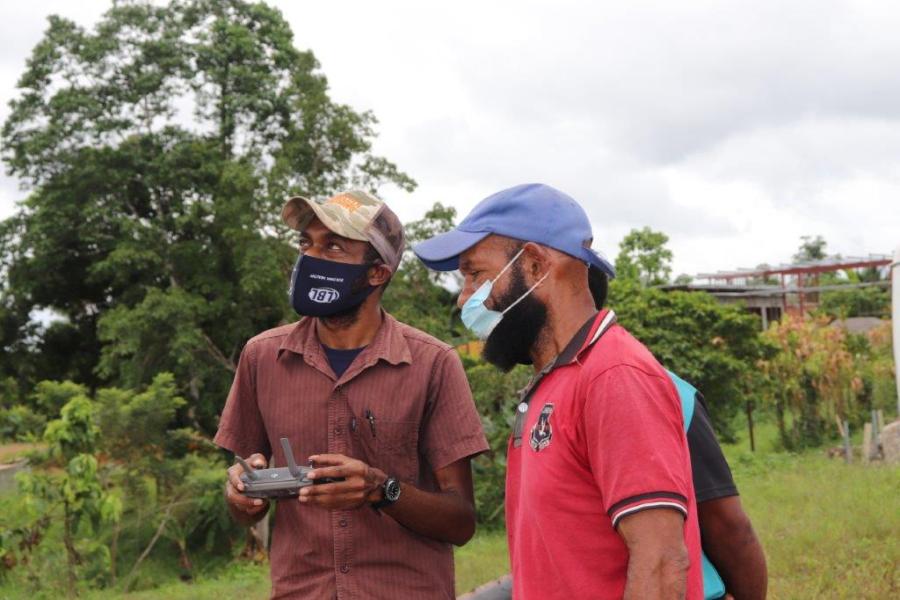 While this week's training focused on communications, the new technology can also help the team monitor and report on conditions and emergencies around the Fly and Alice Rivers. With a range of up to 10km, the drone can provide images of communities affected by drought or flooding faster and safer than by boat or road. 
Information division team leader Michael Wangihomie welcomed the participation of two members of the province's Division of Disaster and Emergency. "Our team usually clicks very well," he said. "Now, with the guys from the disaster and emergency team, we could all work together."
Michael shared Deborah's enthusiasm for the opportunities presented by the new equipment.  "Sometimes good pictures are only as good as the equipment you use," he said. "So I have really appreciated this workshop."
Provincial Administrator Robert Kaiyun said the new equipment was important for the team. "We have a dynamic team and this is a part of our effort's to build the team's capacity to deliver services and communicate effectively," he said. "Thank you UNDP, coming back again and again to support our needs."
This training was organised by UNDP Papua New Guinea with the organisation providing over 20,000 Kina worth of new equipment for the Western Province Administration team. This support complements humanitarian assistance provided to North Fly District throughout the COVID pandemic as the region has experienced one of the highest incidences of COVID cases in Papua New Guinea.
UN entities involved in this initiative
RCO
United Nations Resident Coordinator Office
UNDP
United Nations Development Programme