Press Release
UN Women and PILAG Partner to Launch Political Leadership Academy for Women.
17 August 2021
 Tuesday 17 August 2021, Port Moresby - UN Women signed a Memorandum of Understanding (MOU) with the Pacific Institute of Leadership and Governance (PILAG) to establish the first Political Leadership Academy for Women in Papua New Guinea (PNG).
The partnership is being established under UN Women's Women Make the Change programme, which focuses on supporting and promoting women's political participation and leadership in the country. The programme is implemented with support from the Government of Australia and the Government of New Zealand.
The Political Leadership Academy for Women will work closely with a small cohort of women in each cycle to provide those who are already in subnational political positions with training, skills building, mentorship and learning exchange opportunities.
According to Ms. Caroline Nyamayemombe, UN Women Deputy Country Representative, the new partnership is expected to contribute to a growing pool of qualified and capable women political leaders in the country.
"We are excited to be part of this partnership. We look forward to working closely with the Pacific Institute for Leadership and Governance to ensure that female politicians in PNG are well-equipped to advance their careers from the local, district and provincial levels to the national stage," Ms Nyameyemombe said.
Since independence in 1975, PNG has had only seven women elected into the National Parliament, in comparison to approximately 800 men. Ms. Nyamayemombe attributed this disparity to gender stereotypes that discriminate against women and girls.
"It is our duty as UN Women to ensure women have every opportunity to fully participate in whatever capacity or role they desire," she added.
The Chief Executive Officer of the Pacific Institute of Leadership and Governance, Mr. Michael Barobe, acknowledges the very important role and work of UN Women under its Women Make the Change program in Papua New Guinea in raising the profile of women and creating opportunities that empower women to participate meaningfully in the socio-economic and political discourse of this country. He also pledged that PILAG will support UN Women and the Political Leadership Academy for Women in its endeavor to raise the next generation of Women Nation Builders through equal participation.
Mr. Barobe further reaffirmed the commitment and preparedness of PILAG to host the Political Leadership for Women Academy and expressed great confidence that the partnership will pave the way for a very strong and vibrant collaboration in this endeavor, as well other opportunities that may arise in the near future.
This partnership will help ensure the sustainability of the Political Leadership Academy for Women, so that it lives long into the future.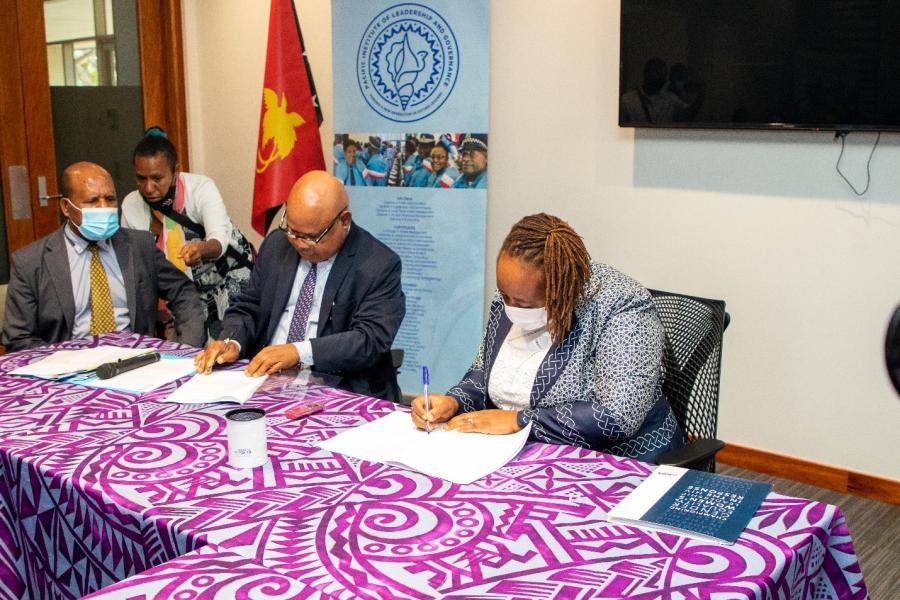 UN entities involved in this initiative
UN Women
United Nations Entity for Gender Equality and the Empowerment of Women
Other entities involved in this initiative
DFAT
Department of Foreign Affairs and Trade
MFAT
New Zealand Ministry of Foreign Affairs and Trade Aid Programme