Press Release
CLRC Signs Agreement with EU-UN Spotlight Initiative in Step Towards Greater Protections for Human Rights Defenders
10 February 2022
PORT MORESBY, PNG: The Constitutional Law and Reform Commission has taken a significant step towards stronger protections for women and men defending human rights in Papua New Guinea. The Commission today signed a Memorandum of Understanding with UN Women to conduct consultations on a Human Rights Defenders bill and to provide technical assistance in the drafting of the bill.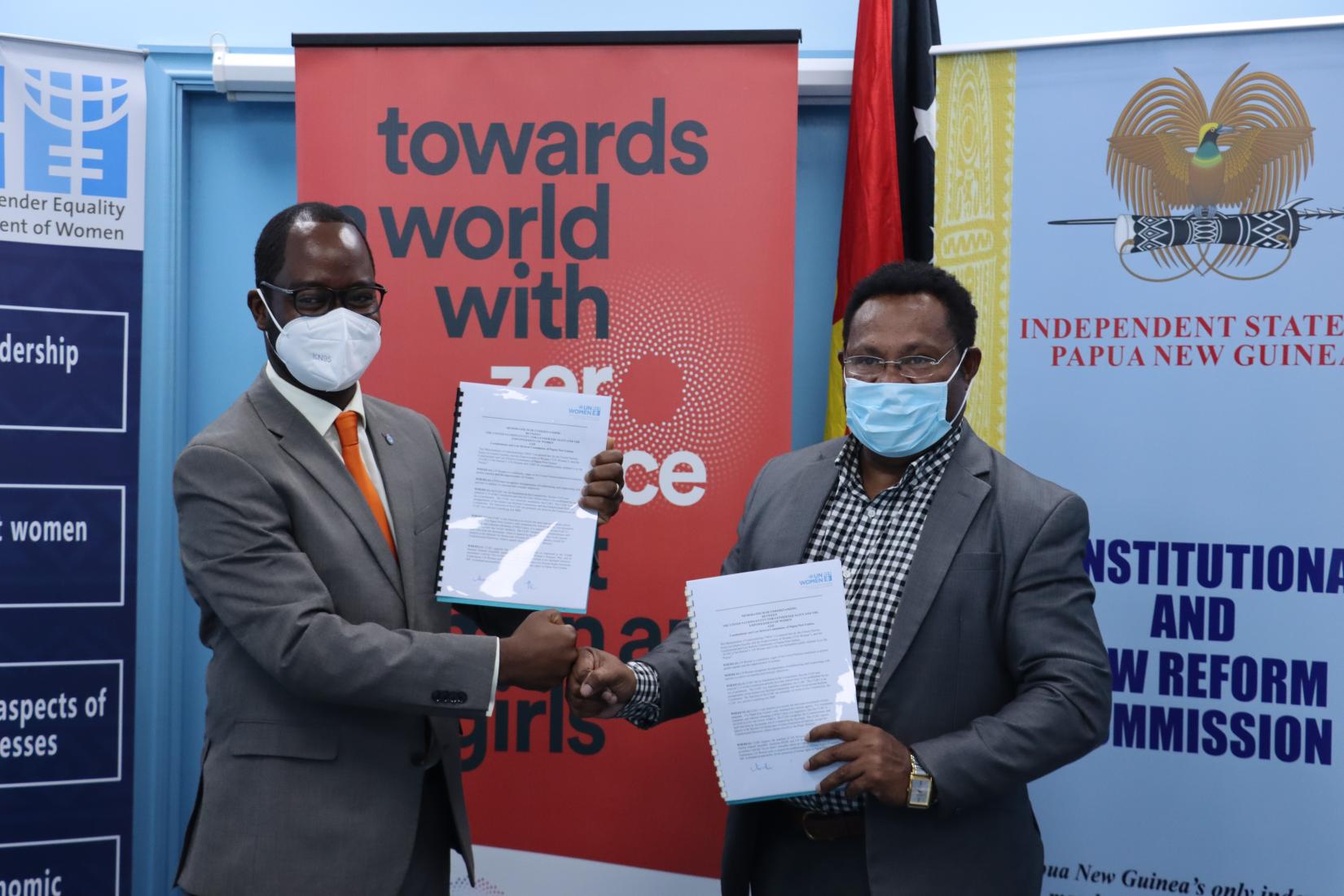 "I'm very happy, on behalf of the Constitutional and Law Reform Commission, to be working with the U.N," said CLRC Secretary Dr. Mange Matui. "We're heading towards 50 years of independence in 2025. Our society has gone through an evolution and the situations we faced in 1975 are not the same as today."
"As a law reform agency, we are looking at the situations and activities that the law does not yet address."
Dr. Matui noted that protections for Human Rights Defenders is one area where the law can be developed to meet current needs. Human Rights Defenders are those who protect political rights, land and environmental rights, women and children's rights, rights of survivors of gender-based violence, rights of people living with HIV and other marginalized population groups, including responding to those accused of sorcery and witchcraft and even intervene to prevent tribal warfare.
"Through our work in this area, supported by the EU under the Spotlight Initiative, human rights defenders had expressed a particular need around legislation that provides protections for the work that they do," said UN Women Country Representative Themba Kalua.
"We know that human rights defenders play a key role in supporting victims of family and sexual violence access justice. We also know that they are involved in responding to sorcery accusation related violence. But often times they're very vulnerable to retaliation."
"We see a lot of sorcery-related violence and people are scared to report it", said Dr Matui. "The law does not currently provide for this."
The United Nations is assisting CLRC   facilitate consultations that will inform the drafting of a Human Rights Defenders Protection Law. The process is led by a working committee comprising DJAG, DfCDR, and UN Women, led by CLRC.
These consultations will take place over four sessions during February and March, ensuring draft legislation is informed by the experiences of the women and men working to defend human rights across all four regions. Once consultations are completed, the CLRC will work to present the draft bill before Parliament. Human Rights Defenders are already mobilising within their regions to engage in this process which they expect will provide legal recognition and protection of their important work.
This process is funded by the European Union under the Spotlight Initiative to end violence against women and children. 
UN entities involved in this initiative
UN Women
United Nations Entity for Gender Equality and the Empowerment of Women