Press Release
UNOPS, World Bank Deliver Digital X-Ray Facilities to Three NCD Locations
04 August 2022
In collaboration with the World Bank, UNOPS has opened three new digital x-ray facilities to aid in the early prevention, diagnosis and treatment of Tuberculosis.
Patients and clinicians in National Capital District (NCD) now have improved medical imaging services with the opening of three new digital x-ray facilities in 6-Mile clinic, Gerehu Hospital, and Lawes Road clinic. 
With funding from the World Bank and procurement managed by the UN Office for Project Services (UNOPS), the new facilities - which allow for on-site x-ray imaging - relieve pressure on Port Moresby General Hospital and make these valuable diagnostic tools cheaper and easier to access for patients and clinicians. 
Previously, patients from across NCD would be referred to Port Moresby General Hospital for x-ray imaging. If the radiology services were at capacity, patients would need to turn to private hospitals. As UNOPS Country Manager Ian Rector explained at the opening of the digital x-ray facility at Gerehu, that is a barrier that some patients cannot manage. 
"If someone has to travel to Port Moresby General Hospital and then wait for their results, the reality is that they may simply not go," said Mr. Rector. "When you delay diagnosing a problem, you delay treatment. This makes illnesses and injuries worse, and can make them more expensive to treat."
The new x-ray facilities will be free for patients.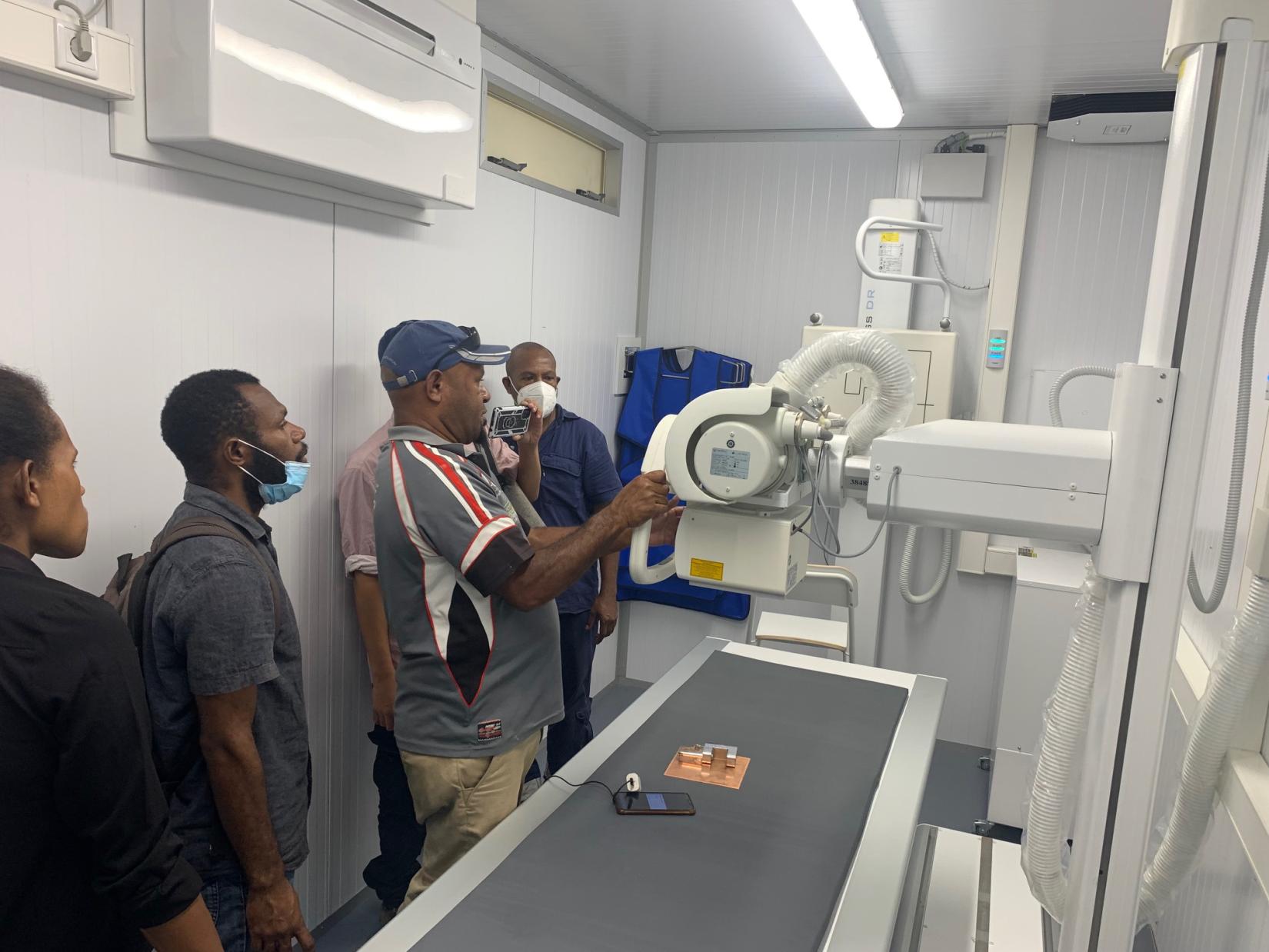 "Having this x-ray capacity within these premises means a lot for NCD public health services," said, Dr Rueben Kitembing, Director of Curative Services at Gerehu Hospital. "Our clinical services will be very much improved. We have more than a hundred people here each day who would require an x-ray." 
The Provinicial Health Authority has also engaged a radiologist for Gerehu Hospital and UNOPS has assisted in training six radiographers to equip clinics with the expertise needed to keep the services running. 
Being able to capture and share x-rays on-site is a relief for clinicians who will now be able to see digital x-ray images almost immediately after they are taken. A process that normally took days will now take a few hours, improving access to healthcare for patients across NCD.
UNOPS: For media inquiries please contact: Ffion Conlon, Communications and Partnerships Officer, ffionc@unops.org 
About UNOPS:
UNOPS mission is to help people build better lives and countries achieve peace and sustainable development. We help the United Nations, governments and other partners to manage projects, and deliver sustainable infrastructure and procurement in an efficient way. We respond to our partner's needs in the world's most challenging environments, by combining the best of the UN and the private sector, as we build foundations for countries to achieve sustainable development. Read more: www.unops.org 
Read about our work in strengthening health systems across the Pacific here, as well as our work on sustainable, resilient and inclusive infrastructure for SIDS here.
Ffion Conlon
Communications and Partnerships Officer
Communications and Partnerships Officer with UNOPS.
UN entities involved in this initiative
UNOPS
United Nations Office for Project Services
Other entities involved in this initiative