Press Release
UN emergency fund releases US$9.2 million to assist Highlands earthquake disaster response
29 March 2018
The United Nations in Papua New Guinea has mobilized an additional USD 9.2million (K30 million) from the UN Central Emergency Response Fund (CERF) for the highlands earthquake disaster in Papua New Guinea (PNG).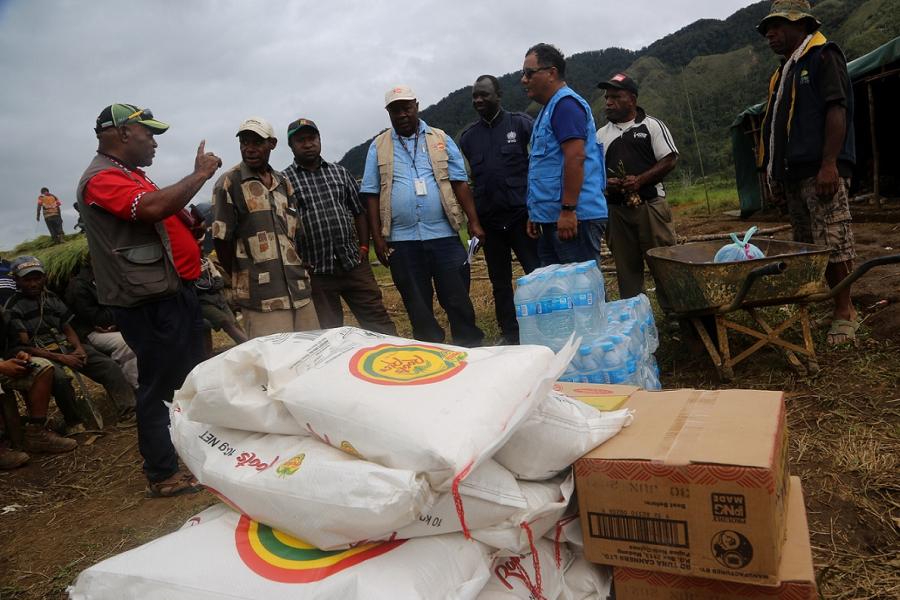 Port Moresby - These funds will enable life-saving assistance to 144,172 people in the two most affected provinces of Hela and the Southern Highlands following the 7.5 magnitude earthquake that struck PNG on 26 February.
"The funds will help support the restoration of livelihoods and ensure that relief supplies and services such as food, safe drinking water, transitional shelter and medicines are reaching the people that need them the most," said UN Resident Coordinator in PNG, Mr Gianluca Rampolla.
He said the funds will also support the restoration of health facilities so that health services are reaching the people while ensuring the safety and protection needs are being met for vulnerable people, including people living with disabilities, women, girls, boys, and men.
Prime Minister, Peter O'Neill acknowledged the support of the UN in his address to the special parliament sitting on the earthquake response yesterday, (TUESDAY 27 MARCH). He said, "We have enlisted the support of United Nations. They have now brought in experience in managing relief efforts such as this, particularly in receiving support, delivering and distribution."
"We share the Prime Minister's priority to ensure that relief supplies, and services reach those that need them the most and the CERF funds will be used for this," said Mr Rampolla.
These funds are in addition to the UN's emergency services and relief supplies already dispatched, and the response coordination support provided to the Government of PNG since the onset of the disaster.
UN entities involved in this initiative
UNFPA
United Nations Population Fund
WHO
World Health Organization