Press Release
Yumi Olgeta- the media event organized by UN and EU on 'reporting on disasters'
17 August 2018
The United Nations (UN) and the European Union (EU) yesterday organized the quarterly media event – Yumi Olgeta - on the theme of 'Reporting on Disasters'.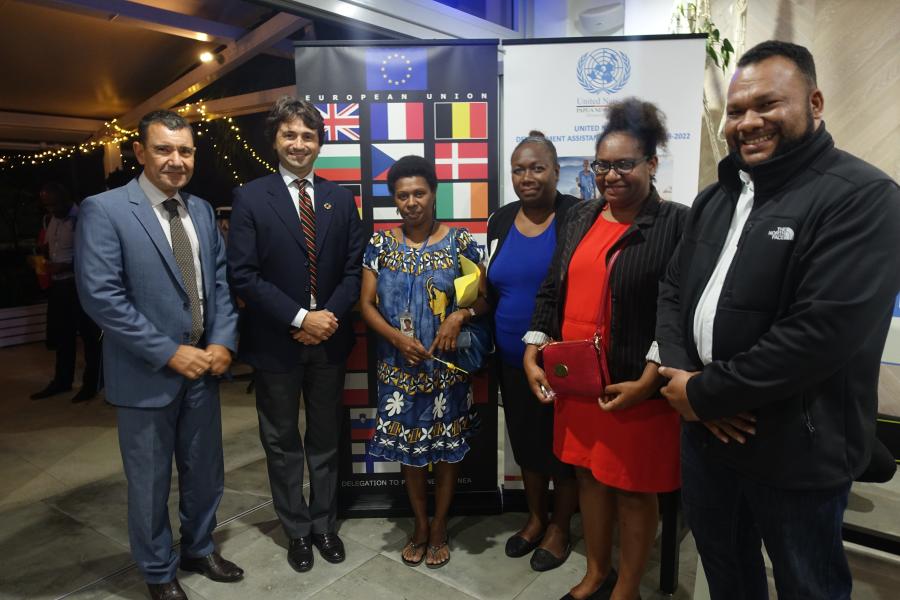 Port Moresby – The objective of the media event was to generate a discourse on the challenges and successes of media reporting during the recent disasters in Papua New Guinea.
Panellists representing print and electronic media participated in the discussion and came up with concrete recommendations on how the media's role can be improved during disasters. The panellists included Ms. Jean Morea from Post Courier, Ms. Genesis Ketan from PNG FM, Mr. Neville Choi from PNG Media Council and Ms. Belinda Kora from PNG TV.
During the interactive panel discussion, panellists and media representatives emphasized the need for collaboration between media outlets in case of disasters. Ms. Belinda Kora from PNG TV said that "As a small media community, we must work together instead of competing with each other."
Ms. Jean Morea from Post Courier emphasized on media's role in humanitarian response and said, "the media must be recognized and effectively utilized as a partner in humanitarian response by all stakeholders."
The issues of safety of journalists and trauma counselling after the disaster were also raised.
Genesis Ketan from PNG FM said "The journalists covering disaster must be provided trauma counselling as witnessing the tragedy can be very traumatic".
Neville Choi from PNG Media Council remarked, "Social media was to gather information on the ground immediately after the earthquake. Media outlets must confirm the stories before publishing to ensure fake news are not published. Our journalists must acquire the skills of using innovative methods to effectively report on disasters"
The panellists agreed that training of journalists on disaster reporting is much needed, which would include support on developing disaster plans for newsrooms. Media representatives agreed that they must play an active role to advocate for disaster preparedness.
Speaking at the event, Mr. Gianluca Rampolla, UN Resident Coordinator said "When disasters strike, media has a key role to play to ensure factual reporting and hold accountable the authorities and partners on the use of aid. The media is invaluable to ongoing humanitarian efforts by informing affected communities on how to access assistance, raising awareness and sharing life-saving information."
H.E. Mr. Ioannis Giogkarakis-Argyropoulos, EU Ambassador said "Unfortunately, most disasters are sudden and there is an immediate need of information; which might, at times, save lives. It is not always easy however, to obtain and share reliable information soon after a disaster strikes. This requires collaboration and quick exchange on the ground between all actors; media, government, private sector, and civil society. I encourage the media fraternity to raise its preparedness to cope with such situations, and strengthen their role further in times where humanitarian response is critical".
At the event, the launch of UN Women/UNAIDS Media Awards on Excellence in Reporting on GBV & HIV/AIDs with the theme 'Hear My Voice…My Story!' by was announced by Ms. Susan Ferguson, Country Representative, UN Women. She encouraged media representatives to participate and submit nominations in all five categories. She also emphasized on media's role to report and raise awareness about gender-based violence and the health epidemics such as HIV/AIDs.
The event was attended by representatives of media, civil society, UN, EU and private sector. 
UN entities involved in this initiative
RCO
United Nations Resident Coordinator Office