UN75: Starting the Conversation in Papua New Guinea
Youth advocates from across the country voice concerns on climate inaction, access to services and gender-based violence to high-level UN delegation.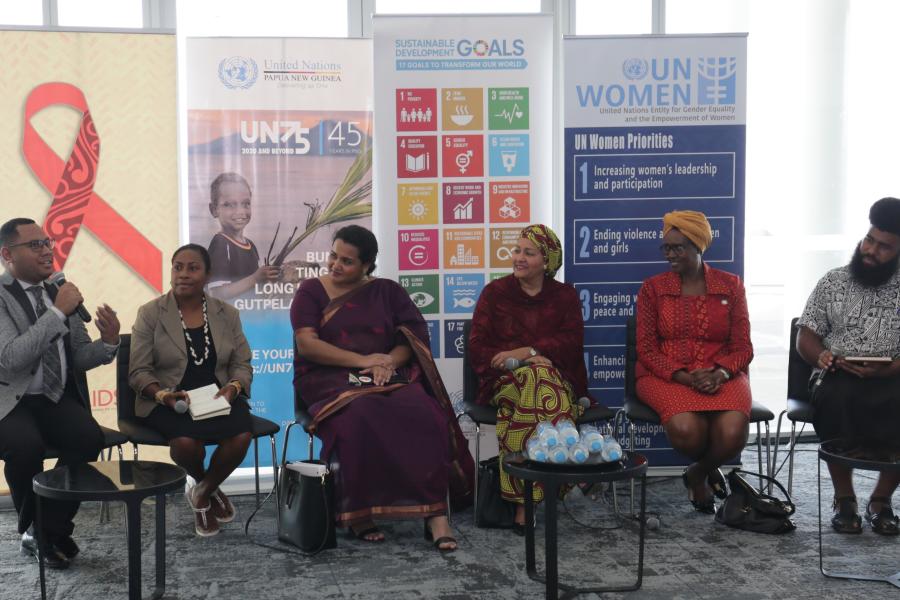 Youth advocates from across the country met a high-level UN delegation in Port Moresby for the launch of UN75 in Papua New Guinea. Advocates voiced to UN Deputy Secretary General Amina Mohammed, UNAIDS Executive Director Winnie Byanyima and UN Youth Envoy Jayathma Wickramanayake their vision for the world in 2045, the challenges they face for realizing this vision, and their expectations of the UN in overcoming these challenges. Overwhelmingly, advocates raised concerns on climate inaction, access to services and gender-based violence as areas in need of improvement.
Ms Mohammed asked the representatives whether they believe the world be a better place, worse place, or the same in 2045 which prompted discussions on what young Papua New Guineans want for their futures. Lucy Maino, Miss PNG 2020, stated that while young Papua New Guineans were largely optimistic about the future, change will be only be achieved through action. She noted that individual action can set an example to families and subsequently communities. Transparency International's Dagia Aka stated that to achieve a better future PNG needs strong governance institutions, equal distribution of services and informed policy which is enforced. 
"We want to ensure that, come 2045, we have responsive and strong leadership," said David Aoneka from the National Youth Development Authority. "We want to ensure the leaders that we have are able to take into account what citizens say and be able to create a country that is economically stable and caters to every, single citizen".
UN Youth Envoy Jayathma Wickramanayake asked panelists the top three things they can do to create the world they want to see in 2045. Mr Aoneka stated PNG must end all forms of violence against women and people with diverse sexuality, young people must participate in elections and, building on Dagia Aka's earlier comments, equal access to services across PNG must be realized.
Yolani Amepou, director of Piku Biodiversity Network, stated that diversity was a challenge, a sentiment repeated by other panelists. She explained that actively engaging and working on behalf of 800 language groups is difficult but that the solution is not moving towards homogeneity. Ms Amepou said that individuals can overcome this challenge by leaving their own communities and listening to other cultures.
All panelists voiced that geographic challenges are a significant hurdle in achieving their vision for a better world by 2045. Yolani shared stories of crossing rivers and walking for days to get services. Panelists also agreed that youth participation in decision making must be genuine and not tokenistic. Ms Wickramanayake spoke of the importance of holding leaders to account. She encouraged young people to be as critical as possible in evaluating the work of the UN in Papua New Guinea.
On expectations of the UN, Ms Amepou spoke of the need for the UN to be a strong and fair platform for action on the climate crisis, noting that PNG is home to the world's first climate refugees and climate change is acutely affecting coastal communities. Echoing earlier sentiments on diversity, Mr Aka stated the UN must value dialogues with local communities and nurture the diversity in PNG and the Pacific. The audience added that the UN should have more opportunities for Papua New Guineans to work with and for the UN.
About UN75
Celebrating 75 years of the United Nations, UN75 is a global conversation on the role of international cooperation in building the future we want. UN75 is building, and will continue to build, a network of diverse groups, individuals and partners to convene dialogues such as this event in Port Moresby. Through its global online and offline networks, UN75 will aim to reach as many people as possible, including youth, marginalized communities, and those who would not often or ever engage around issues of global cooperation.
The views and ideas that are generated will be presented to world leaders and senior UN officials at a high-profile event during the 75th Session of the United Nations General Assembly in September 2020. They will also be disseminated online and through partners on an ongoing basis. You are invited to have your say by completing the UN75 Survey online.
UN entities involved in this initiative
FAO
Food and Agriculture Organization of the United Nations
ILO
International Labor Organization
IOM
International Organization for Migration
OHCHR
Office of the United Nations High Commissioner for Human Rights
UN Women
United Nations Entity for Gender Equality and the Empowerment of Women
UNAIDS
Joint United Nations Programme on HIV/AIDS
UNCDF
United Nations Capital Development Fund
UNDP
United Nations Development Programme
UNFPA
United Nations Population Fund
UNICEF
United Nations Children's Fund
WHO
World Health Organization
Goals we are supporting through this initiative