IOM Strengthens Community Participation in Peacebuilding and Development
Through the United Nations' Peacebuilding Fund, IOM, UNFPA, and UN Women are delivering inclusive, community-led development in the Southern Highlands.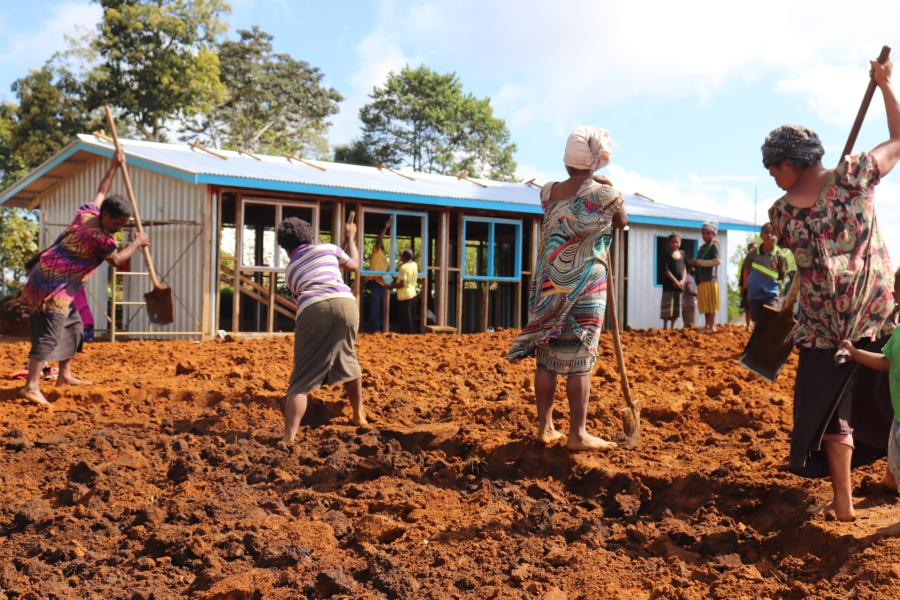 Photo | IOM/ Peter Murorera
Under the joint UN Peace Building Fund Gender and Youth Promotion Initiative (GYPI), the International Organisation for Migration (IOM) has worked with Kumin, Humbra-Topa, Semin, Daga-Pimaga and Pomberel communities to develop Community Peace and Development Plans (CPDPs) aimed at promoting social cohesion and sustained community development. The GYPI is a joint initiative of IOM, UN Women and UNFPA, implemented in close cooperation with the Southern Highlands and Hela Provincial governments.
The initiative, which emphasizes community participation, especially of women and youth, is a component of a broader UN led Highlands Joint Peace Building Programme. The CPDPs developed with support of IOM provide conflict affected communities with a road map for sustaining peace through strengthening community engagement and dialogue that provides an enabling environment for women and youth and promotes inclusive community development. 
In addition to training on conflict mitigation and peace building, IOM has assisted target communities with the construction and outfitting of community-halls that will provide a common gathering place for community members to meet, discuss and achieve community consensus on important issues, plan for sustainable development initiatives and conduct community level trainings.  Additionally, IOM has supplied water tanks and other materials for the installation of potable water points to ensure safe access to water for community members.
"We never thought the information provided by mothers during the planning would lead to this. We are happy to see the progress in the construction of this community halls and the water tanks. As you can see, mothers are very happy, and working together with everyone in the community to see the completion of the hall," noted a community member from Daga.
Following a monitoring visit and delivery of the materials by IOM and a representation from the Community Development Division for Southern Highlands Province, IOM and UNFPA representatives led a briefing on the work of the UN in the Highlands with local authorities including the Deputy Provincial Administrator – Corporate Services, Mendi Urban Town Mayor, and Councilors from Kumin and Kambiyakipu. 
"The UN continues to support the province since the time we were hard hit by the earthquake. Many of the affected communities continue to lack access to safe drinking water among other needs. Thank you, IOM, for installing the water points for our people," noted the Deputy Provincial Administrator – Corporate Services, Mr. Kenneth Kelei. "I would like to thank the UN for your support and would like to request if improving community access to safe drinking water can be extended also to other communities in the province," he added.
UN entities involved in this initiative
IOM
International Organization for Migration
UN Women
United Nations Entity for Gender Equality and the Empowerment of Women
UNFPA
United Nations Population Fund
Goals we are supporting through this initiative