Story
Mental Health Support Critical for PNG's Safe Houses Following COVID-19 Pandemic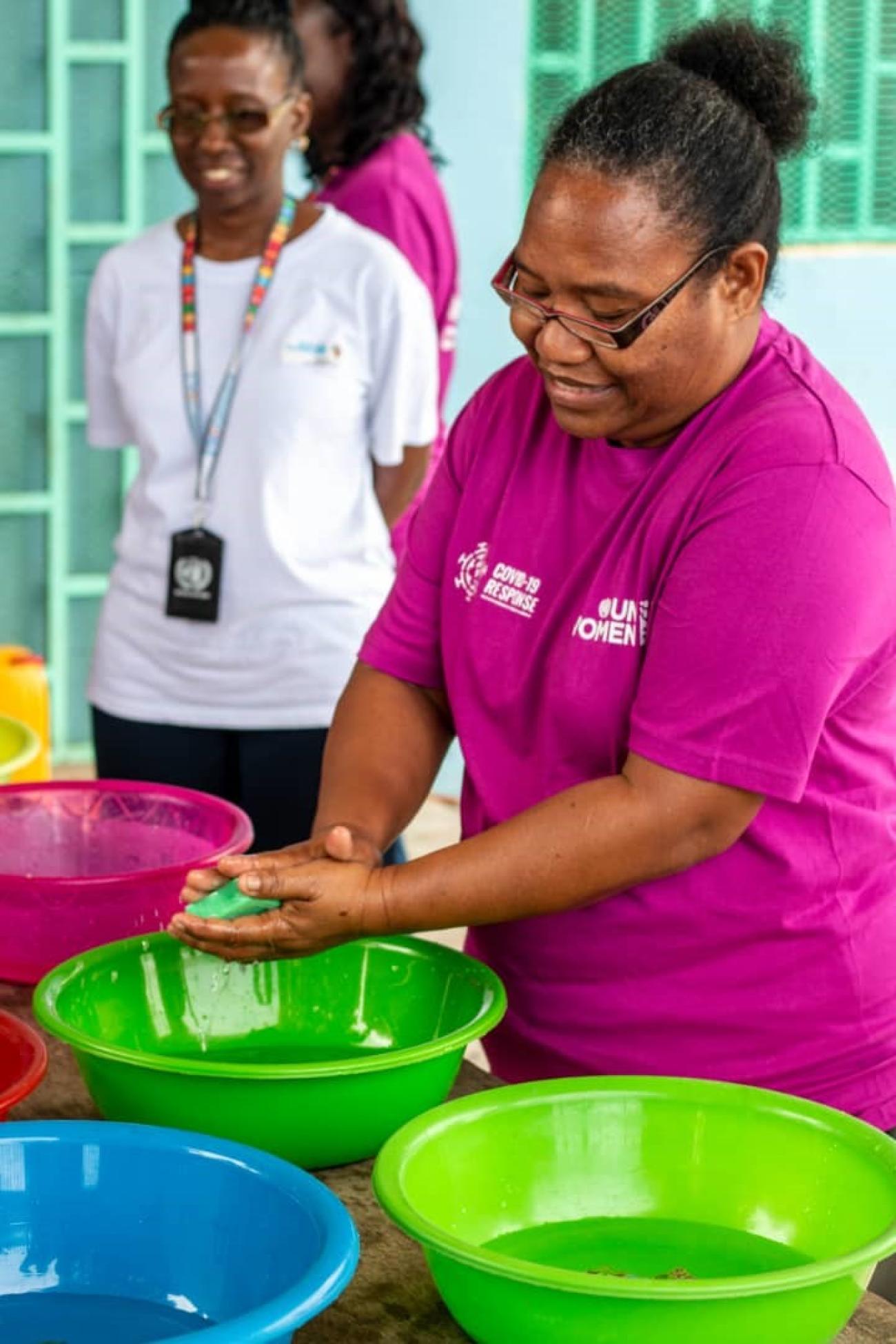 At City Mission, Miriam works with some of the most vulnerable individuals in Lae – children orphaned by HIV/AIDS or who have otherwise been abandoned or abuse
"Some staff were laid off, others had hours taken off," Miriam recalls of the start of the COVID pandemic. "The first week, I and others who live far from the centre were asked not to come to work."
City Mission is one of many providers of safe houses and services for vulnerable women and children in Papua New Guinea. When the first cases of COVID were announced in PNG, management at these important refuges from violence and neglect faced difficult decisions. To operate without protections such as hand sanitizer and masks would put residents and workers at risk. To shutdown and wait would leave the community's most vulnerable with nowhere else to go.
Staying Open Under COVID-19
Fortunately for the children under the care of Miriam and the team in Lae, City Mission was able to remain open. However, some staff, like Miriam, had their hours reduced while others were laid off. The team of ten was reduced to six. In addition, travel restrictions made it difficult for staff like Miriam to get to work. "I was paying 8 kina every day for the bus," she says. "Another staff member was paying 12 kina a day."
Those remaining staff managed to implement the small preventative measures that they could until they could source PPE. All children followed handwashing instructions and the staff enforced social distancing when they could. With these basic measures, the team followed World Health Organisation advice for preventing the spread of COVID. But hand sanitizer and masks were needed to ensure the centre could continue to operate as the number of cases in country increased.
"For the first two months, we didn't receive anything," says Miriam.
In June, a representative from UN Women visited City Mission in Lae. "After the representative visited, we received PPE that same week," says Miriam. She shares that the visit also helped the staff purchase more food and supplies for the children.
UN Women, with partners of the Spotlight Initiative, has provided 13 safe houses and Family Support Centres around the country with K100,000 worth of vouchers to cover food and hygiene items. UN Women also provided services with PPE, including 1300 N95 face masks, 39 infra-red thermometers, 156 5 litre containers of alcohol based sanitiser, 600 packs of paracetamol, amoxicillin and vitamins, 390 bars of medicated soap, and 1300 gloves.
Additional support has been provided by UNDP through a partnership with Femili PNG that enables the organisation to help safe-houses and other essential services for victims of gender-based violence, and family and sexual violence.
"It made a very big difference," Miriam says of the support received from UN Women and Femili PNG. "We are very thankful for the support. It really helped us help the children."
Mental Health and COVID-19
Miriam and her colleagues welcomed the arrival of PPE to protect themselves and the children in their care. However, relief in receiving this tangible support has not compensated for the stress the pandemic has placed on staff and children at City Mission in Lae.
"All staff and children were traumatized," says Miriam with a laugh. "After some staff were laid off, others were overworked".
As a residential facility, City Mission operates 24 hours, 7 days a week. To ensure the safety of children in their care, the centre is committed to ensuring there are at least two staff members present at all times. Staff are responsible for administration, cleaning, cooking, supervision and care for the children. The team includes a counsellor. Reduced staff numbers left little time for those who remained to provide much more than essential care for the children. Counselling became rare.  
"There was great stress on the staff, both those who were laid off and those who were left, and on the children," recalls Miriam. For her and her colleagues who lived further from the centre, the cost of travelling to work when hours were cut contributed to the stress of a more demanding workload.
Miriam shares that the stress on the children was noticeable as they became difficult to manage. "Here, counselling is our first priority," she says. "When it is unavailable, we see the changes in the behaviour of the children."
Two children, aged 16 and 12, who have been living at City Mission for the past 8 years have recently had to leave for behavioural reasons. Miriam is now tasked with finding a home for these two boys. "These children have no where else but few people like us," she says. "It gives extra burden for me to still find people that can take them."  
COVID has had a significant impact on mental health across the country. Calls to ChildFund's 1-Tok Kaunsellin Line increased from 606 calls in March to 1,826 in May.
Mitigating the impact of COVID-19 on the psychosocial wellbeing of the children in Lae and across the country is essential to an effective and inclusive COVID-19 recovery plan. UN Women has provided additional funds to the 1-Tok helpline to help the service respond to the sudden increase in demand. By July, an additional 6 counsellors had been added to the team.  
More to do
Despite the significant support delivered to safe houses, like City Mission, by UN Women, UNDP and other NGOs, staff are still in need of assistance.
"We've run out of masks," says Miriam. "The challenges on the ground are still transportation, lack of staff training and online communication, including email."
In addition to consistent supplies of PPE to keep staff and children safe, it is clear when talking to staff that support for secondary impacts and the mental wellbeing of staff and children is needed. The Disaster Management Committee is committed to ensuring these impacts of COVID are addressed and continues to seek funding to keep these safe houses open as the pandemic draws on.
UN entities involved in this initiative
UN Women
United Nations Entity for Gender Equality and the Empowerment of Women
UNDP
United Nations Development Programme